RAISE POSITIVE ENERGY FOR AUTUMN DAY WITH A TRENDY PUMPKIN ORANGE COLOR SCHEME
Discover 3 Fall dressing recipes with pumpkin orange color to help you stay stylish and full of positive mental energy.
The harmonious combination of the strength of red and the happiness of yellow, orange is considered a symbol of warmth, positive energy and belief in a new beginning. That is why Pumpkin Orange (pumpkin orange) brings optimism and freshness to become the most favorite color in a time when our mental health is also affected by the epidemic. Unlike the youthful and dazzling fluorescent orange from previous years, this year's orange-brown color is more elegant and warm. So how can you unleash your creativity and come up with trendy outfits with pumpkin orange hues?
MONOCHROME MONOCHROME STYLE PUMPKIN ORANGE MIX
For believers who love subtle minimalism but are not faded, the monochrome color scheme and warm orange color will be the perfect choice for you. Pumpkin orange outfits with different dark and light shades will create excellent visual effects to help you become a fashion "magnet" that attracts all eyes. The warmth of the deep orange color not only helps you stand out from the crowd but also soothes the cold of autumn days.
For the monochromatic "tree" mixes, you should focus on novel materials or highlight unique and eye-catching earrings, bracelets, bags, etc. to create an attractive point of view. overall outfit. Gold metal jewelry will be the most delicate and safest choice for orange color schemes.
EXPERIMENT WITH CONTRASTING COLORS "HOT-COLD"
The combination of two contrasting colors will be a fashion suggestion not to be missed for girls who have personality, love boldness, and are not afraid to renew themselves. According to the color scheme of the color wheel, blue will be a good "piece" for your warm orange-tone fashion items. Although they are two opposite hot and cold colors on the color palette, when combined, pumpkin blue and orange bring a "new breath" full of innovation and attraction to your fashion mix.
Don't worry if you want to try your hand at this attractive hot-cold color pair but are not confident enough in your ability to "play color" with fashion. Because you can completely start with simple color schemes between clothes and accessories. Choose eye-catching blue bags or shoes to create a highlight for your warm orange-toned outfits.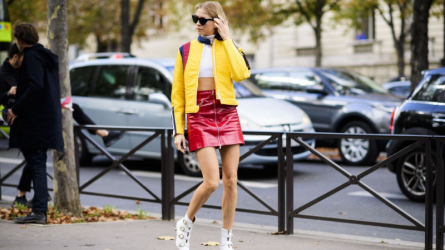 5 principles to "take it to heart" when coordinating outfit colors
To combine outfits from different tones on the color wheel, girls need to grasp the following basic principles.
COLOR-BLOCKING ORANGE WITH ADJOINING COLORS
To maximize positive mental energy through fashion mixes, try combining warm pumpkin orange with hot tones in a vibrant color-blocking style. The combination of warm orange tones and eye-catching colors is full of hope to bring you an extremely interesting fashion experience. To create a trendy and sophisticated mix, you should cleverly mix & match the "same family" tones together (such as yellow, red, …). Although this color scheme is relatively safe, it can still bring outstanding effects to your overall outfit.
Don't forget to test your style with color-blocking combinations between pumpkin orange and attractive hot-cold colors. Show off your sophisticated color scheme with "matching" trios like orange- green- dark purple or stylish orange-pink lotus- violet lilac. However, you should pay attention to minimize the elaborate textures and accessories when wearing multi-colored outfits to make the overall look harmonious and avoid cumbersomely.
Source: ELLE Women Magazine